Пакунок: solfege-oss (3.23.4-6 and others)
Links for solfege-oss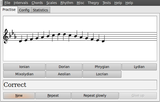 Debian Resources:
Download Source Package solfege:
Maintainer:
External Resources:
Similar packages:
Ear training software - OSS support module
GNU Solfege is an ear training program for X Windows written in Python, using the GTK+ 3.0 libraries. You can practice harmonic and melodic intervals, chords, scales and rhythms, and you can add new exercises using a simple plain text file format.
This package contains the Python module GNU Solfege needs to access the sequencer device of OSS.
Інші пакунки пов'язані з solfege-oss
dep:

libc6.1 (>= 2.4) [alpha]

Бібліотека GNU C: спільні бібліотеки
also a virtual package provided by libc6.1-udeb

dep:

solfege

Ear training software