Пакунок: gnome-shell-extension-dashtodock (67-1)
Links for gnome-shell-extension-dashtodock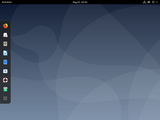 Debian Resources:
Maintainers:
External Resources:
Similar packages:
dash-to-dock extension for GNOME shell
Dash to dock extension is an enhanced dash for GNOME Shell. It moves the default dash out of the overview and transforms it in a dock for an easier launching of applications and a faster switching between windows and workspaces without leaving the desktop view improving the workflow in your system.
It supports autohide and intellihide modes as well as a fixed mode. Optional features are available in the extension settings. The extension is themes friendly.
Інші пакунки пов'язані з gnome-shell-extension-dashtodock
Завантажити gnome-shell-extension-dashtodock
Завантаження для всіх доступних архітектур

| Архітектура | Розмір пакунка | Розмір після встановлення | Файли |
| --- | --- | --- | --- |
| all | 119.6 kB | 891.0 kB | [список файлів] |