Пакунок: evilvte (0.5.1-1) [debports]
Links for evilvte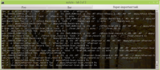 Debian Resources:
Download Source Package :
Не знайдено
Maintainers:
External Resources:
Similar packages:
lightweight terminal emulator based on VTE
evilvte is a terminal emulator based on Virtual Terminal Emulator(VTE) library. It supports almost everything VTE provides. It also supports tabs, tabbar autohide, and switch encoding at runtime. Configuration is via editing source code and recompilation.
This build provides all runtime changeable options in the right-click menu.
Інші пакунки пов'язані з evilvte
Завантажити evilvte
Завантаження для всіх доступних архітектур

| Архітектура | Розмір пакунка | Розмір після встановлення | Файли |
| --- | --- | --- | --- |
| arm64 (unofficial port) | 45.5 kB | 257.0 kB | [список файлів] |