Пакунок: quicktime-x11utils (2:1.2.4-7+deb8u1)
Links for quicktime-x11utils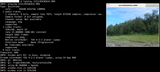 Debian Resources:
Download Source Package libquicktime:
Maintainers:
External Resources:
Similar packages:
library for reading and writing Quicktime files (x11 utilities)
libquicktime is a library for reading and writing QuickTime files on UNIX systems. Video CODECs supported by this library are OpenDivX, MJPA, JPEG Photo, PNG, RGB, YUV 4:2:2, and YUV 4:2:0 compression. Supported audio CODECs are Ogg Vorbis, IMA4, ulaw, and any linear PCM format.
This package contains additional utilities for the X window system.
Інші пакунки пов'язані з quicktime-x11utils
Завантажити quicktime-x11utils
Завантаження для всіх доступних архітектур

| Архітектура | Розмір пакунка | Розмір після встановлення | Файли |
| --- | --- | --- | --- |
| amd64 | 38.8 kB | 126.0 kB | [список файлів] |