Пакунок: erlang (1:21.0.4+dfsg-1~exp1)
Links for erlang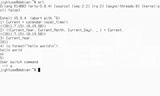 Debian Resources:
Download Source Package erlang:
Maintainers:
External Resources:
Similar packages:
Експериментальний пакунок
Warning: This package is from the experimental distribution. That means it is likely unstable or buggy, and it may even cause data loss. Please be sure to consult the changelog and other possible documentation before using it.
Конкурентна, реального часу, розподілена функціональна мова
Open Source Erlang — функціональна мова програмування, розроблена у Лабораторії комп'ютерних наук Ericsson.
Основними можливостями Erlang є:

 * Простий декларативний синтаксис вільний від побічних ефектів;
 * Вбудована підтримка програмування розподілених, конкурентних програм,

які виконуються в режимі реального часу.

 * Створений для розробки надійних, постійно працюючих програм;
 * Динамічна заміна коду під час виконання.

Збірка Erlang також включає OTP (Open Telecom Platform), яка надає багатий набір бібліотек та застосунків.
Цей пакунок є підставним пустим пакунком, який встановлює виконавчі файли Erlang/OTP, застосунки, сирці, приклади та режим редагування Erlang для Emacs.
Інші пакунки пов'язані з erlang
Завантажити erlang
Завантаження для всіх доступних архітектур

| Архітектура | Розмір пакунка | Розмір після встановлення | Файли |
| --- | --- | --- | --- |
| all | 36.6 kB | 51.0 kB | [список файлів] |