Пакунок: kcolorchooser (4:17.08.1-1)
Links for kcolorchooser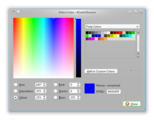 Debian Resources:
Maintainers:
External Resources:
Similar packages:
Експериментальний пакунок
Warning: This package is from the experimental distribution. That means it is likely unstable or buggy, and it may even cause data loss. Please be sure to consult the changelog and other possible documentation before using it.
color chooser and palette editor
KColorChooser is a color palette tool, used to mix colors and create custom color palettes. Using the dropper, it can obtain the color of any pixel on the screen.
A number of common color palettes are included, such as the standard Web colors and the Oxygen color scheme.
This package is part of the KDE graphics module.
Інші пакунки пов'язані з kcolorchooser
Завантажити kcolorchooser