Пакунок: freedroidrpg (1.0~rc2-1)
Links for freedroidrpg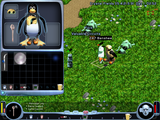 Debian Resources:
Download Source Package freedroidrpg:
Maintainers:
External Resources:
Similar packages:
Експериментальний пакунок
Warning: This package is from the experimental distribution. That means it is likely unstable or buggy, and it may even cause data loss. Please be sure to consult the changelog and other possible documentation before using it.
Ізометрична RPG за мотивами Paradroid
Freedroid RPG — рольова гра в ізометричному просторі. Грати доведеться за пінгвіна Тукса, якому належить битися з повсталими роботами, щоб повернути мир людству. Цього можна досягти двома шляхами: обіграти роботів у міні-гру, суть якої схожа на класичний Парадроїд, або просто розстріляти їх з бластера.
Гра Freedroid у Debian не має нічого спільного з Freedroid RPG.
Інші пакунки пов'язані з freedroidrpg
Завантажити freedroidrpg
Завантаження для всіх доступних архітектур

| Архітектура | Розмір пакунка | Розмір після встановлення | Файли |
| --- | --- | --- | --- |
| alpha (unofficial port) | 871.5 kB | 1,920.0 kB | [список файлів] |
| amd64 | 854.1 kB | 1,619.0 kB | [список файлів] |
| arm64 | 816.3 kB | 1,608.0 kB | [список файлів] |
| armel | 792.7 kB | 1,488.0 kB | [список файлів] |
| armhf | 795.5 kB | 1,248.0 kB | [список файлів] |
| hppa (unofficial port) | 815.0 kB | 1,554.0 kB | [список файлів] |
| i386 | 876.7 kB | 1,756.0 kB | [список файлів] |
| m68k (unofficial port) | 800.3 kB | 1,587.0 kB | [список файлів] |
| mips64el | 810.2 kB | 1,788.0 kB | [список файлів] |
| mipsel | 816.8 kB | 1,721.0 kB | [список файлів] |
| ppc64 (unofficial port) | 878.3 kB | 2,084.0 kB | [список файлів] |
| ppc64el | 883.9 kB | 1,956.0 kB | [список файлів] |
| riscv64 (unofficial port) | 805.1 kB | 1,336.0 kB | [список файлів] |
| s390x | 809.7 kB | 1,664.0 kB | [список файлів] |
| sh4 (unofficial port) | 893.2 kB | 1,485.0 kB | [список файлів] |
| sparc64 (unofficial port) | 787.9 kB | 1,612.0 kB | [список файлів] |
| x32 (unofficial port) | 854.7 kB | 1,579.0 kB | [список файлів] |