Пакунок: piu-piu (1.0-1)
Links for piu-piu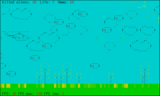 Debian Resources:
Download Source Package piu-piu:
Maintainer:
External Resources:
Similar packages:
Horizontal scroller game in bash for cli.
This is an Old School horizontal scroller 'Shoot Them All' game in bash. With multiplayer mode. You have to defeat 100 aliens to fight with Boss. Netcat is used for client-server exchange in multiplayer mode. So netcat have to be installed on system if you wish to play with friend. And terminals on both hosts have to be with equal dimensions.
Інші пакунки пов'язані з piu-piu
Завантажити piu-piu
Завантаження для всіх доступних архітектур

| Архітектура | Розмір пакунка | Розмір після встановлення | Файли |
| --- | --- | --- | --- |
| all | 15.8 kB | 82.0 kB | [список файлів] |