Пакунок: musiclibrarian (1.6-2.2)
Links for musiclibrarian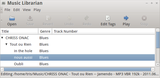 Debian Resources:
Maintainer:
External Resources:
Similar packages:
A simple GUI tool to organize collections of music
Music Librarian is a tool to assist you in organizing your collection of music files. It provides an interface from which you can view the list of files in your collection and modify the tags of one or more files.
Music Librarian handles ogg files natively, but also has support for the legacy mp3 format. It displays music in a hierarchical organization according to one of several rules, and allows you to undo any number of changes to files.
Інші пакунки пов'язані з musiclibrarian
Завантажити musiclibrarian
Завантаження для всіх доступних архітектур

| Архітектура | Розмір пакунка | Розмір після встановлення | Файли |
| --- | --- | --- | --- |
| all | 61.7 kB | 275.0 kB | [список файлів] |