Пакунок: mkdocs-nature (0.3.1+dfsg-1)
Links for mkdocs-nature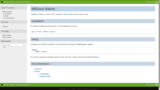 Debian Resources:
Maintainer:
External Resources:
Similar packages:
Nature theme for MkDocs
MkDocs is a fast, simple and downright gorgeous static site generator that's geared towards building project documentation. Documentation source files are written in Markdown, and configured with a single YAML configuration file.
This package contains the Nature theme, adapted from Sphinx.
Інші пакунки пов'язані з mkdocs-nature
Завантажити mkdocs-nature
Завантаження для всіх доступних архітектур

| Архітектура | Розмір пакунка | Розмір після встановлення | Файли |
| --- | --- | --- | --- |
| all | 12.2 kB | 66.0 kB | [список файлів] |