Пакунок: gworkspace.app (0.9.4-1 and others)
Links for gworkspace.app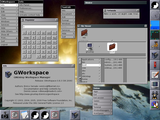 Debian Resources:
Download Source Package gworkspace:
Maintainers:
External Resources:
Similar packages:
GNUstep Workspace Manager
GWorkspace is the official GNUstep workspace manager. It is a clone of NeXT's workspace manager. GWorkspace is probably one of the most useful and usable workspace managers available on any platform, owing to its well-designed interface and the natural, consistent design that it inherits from the GNUstep framework.
Інші пакунки пов'язані з gworkspace.app
Application wrappers for GWorkspace
Завантажити gworkspace.app
Завантаження для всіх доступних архітектур

| Архітектура | Версія | Розмір пакунка | Розмір після встановлення | Файли |
| --- | --- | --- | --- | --- |
| i386 | 0.9.4-1+b2 | 768.8 kB | 4,095.0 kB | [список файлів] |