Пакунок: compizconfig-settings-manager (2:0.8.16-2)
Links for compizconfig-settings-manager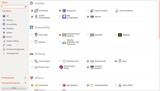 Debian Resources:
Download Source Package ccsm:
Maintainers:
External Resources:
Similar packages:
Compizconfig Settings Manager
Compiz Reloaded is the result of the re-unification of the Beryl-project and the community around the Compiz Window Manager. It seeks to provide an easy and fun-to-use windowing environment, allowing use of the graphics hardware to provide impressive effects, amazing speed and unrivalled usefulness.
This package provides python-based "settings manager", a graphical interface used to administer the various options for the compiz system.
Інші пакунки пов'язані з compizconfig-settings-manager
Завантажити compizconfig-settings-manager
Завантаження для всіх доступних архітектур

| Архітектура | Розмір пакунка | Розмір після встановлення | Файли |
| --- | --- | --- | --- |
| armhf | 231.2 kB | 1,549.0 kB | [список файлів] |