Пакунок: xfce4-weather-plugin (0.11.0-1)
Links for xfce4-weather-plugin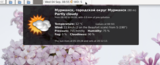 Debian Resources:
Maintainers:
External Resources:
Similar packages:
weather information plugin for the Xfce4 panel
The weather plugin displays information about the current weather according your timezone and settings. It allows one to search weather location code in the same plugin and displays weather status in little icons.
Features include:

 - Temperature, atmospheric pressure and state.
 - Wind speed, gust, and direction.
 - Humidity, Visibility, Dew-point, UV Index.

Інші пакунки пов'язані з xfce4-weather-plugin
Завантажити xfce4-weather-plugin
Завантаження для всіх доступних архітектур

| Архітектура | Розмір пакунка | Розмір після встановлення | Файли |
| --- | --- | --- | --- |
| amd64 | 2,494.8 kB | 5,051.0 kB | [список файлів] |
| arm64 | 2,488.6 kB | 5,047.0 kB | [список файлів] |
| armel | 2,487.4 kB | 5,035.0 kB | [список файлів] |
| armhf | 2,487.4 kB | 4,995.0 kB | [список файлів] |
| i386 | 2,499.7 kB | 5,067.0 kB | [список файлів] |
| mips64el | 2,484.8 kB | 5,066.0 kB | [список файлів] |
| mipsel | 2,488.1 kB | 5,068.0 kB | [список файлів] |
| ppc64el | 2,497.0 kB | 5,144.0 kB | [список файлів] |
| s390x | 2,487.8 kB | 5,055.0 kB | [список файлів] |