Пакунок: python3-unyt (2.9.2-1)
Links for python3-unyt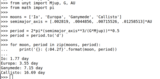 Debian Resources:
Download Source Package unyt:
Maintainers:
External Resources:
Similar packages:
Python package for handling numpy arrays with units
Often writing code that deals with data that has units can be confusing. A function might return an array but at least with plain NumPy arrays, there is no way to easily tell what the units of the data are without somehow knowing a priori.
The unyt package (pronounced like "unit") provides a subclass of NumPy's ndarray class that knows about units.
Інші пакунки пов'язані з python3-unyt
dep:

python3

interactive high-level object-oriented language (default python3 version)

dep:

python3-numpy

Швидкі методи для роботи з числовими масивами для мови Python 3

dep:

python3-sympy

Computer Algebra System (CAS) in Python (Python 3)
Завантажити python3-unyt
Завантаження для всіх доступних архітектур

| Архітектура | Розмір пакунка | Розмір після встановлення | Файли |
| --- | --- | --- | --- |
| all | 94.5 kB | 491.0 kB | [список файлів] |