Paket: file-roller (3.4.2-1)
file-roller için bağlantılar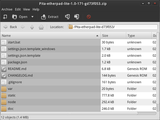 Debian Kaynakları:
file-roller Kaynak Paketini İndir:
Geliştiriciler:
Dış Kaynaklar:
Benzer paketler:
archive manager for GNOME
File-roller is an archive manager for the GNOME environment. It allows you to:

 * Create and modify archives.
 * View the content of an archive.
 * View a file contained in an archive.
 * Extract files from the archive.

File-roller supports the following formats:

 * Tar (.tar) archives, including those compressed with
   gzip (.tar.gz, .tgz), bzip (.tar.bz, .tbz), bzip2 (.tar.bz2, .tbz2),
   compress (.tar.Z, .taz), lzip (.tar.lz, .tlz), lzop (.tar.lzo, .tzo),
   lzma (.tar.lzma) and xz (.tar.xz)
 * Zip archives (.zip)
 * Jar archives (.jar, .ear, .war)
 * 7z archives (.7z)
 * iso9660 CD images (.iso)
 * Lha archives (.lzh)
 * Single files compressed with gzip (.gz), bzip (.bz), bzip2 (.bz2),
   compress (.Z), lzip (.lz), lzop (.lzo), lzma (.lzma) and xz (.xz)

File-roller doesn't perform archive operations by itself, but relies on standard tools for this.
file-roller ile İlgili Diğer Paketler
rec:

gnome-icon-theme (>= 2.18)

GNOME Desktop icon theme

rec:

gvfs

userspace virtual filesystem - GIO module
sug:

arj

archiver for .arj files

sug:

binutils

GNU assembler, linker and binary utilities

sug:

cpio

GNU cpio -- a program to manage archives of files

sug:

lha

Paket mevcut değil

sug:

lzip

lossless data compressor based on the LZMA algorithm

sug:

lzop

fast compression program

sug:

ncompress

original Lempel-Ziv compress/uncompress programs

sug:

rpm2cpio

tool to convert RPM package to CPIO archive

sug:

rzip

compression program for large files

sug:

sharutils

shar, unshar, uuencode, uudecode

sug:

unace

extract, test and view .ace archives

sug:

unalz

De-archiver for .alz files

sug:

unzip

De-archiver for .zip files

sug:

xz-utils

XZ-format compression utilities

sug:

zip

Archiver for .zip files

sug:

zoo

manipulate zoo archives
file-roller indir
Tüm mevcut mimariler için indir

| Mimari | Paket Boyutu | Kurulu Boyut | Dosyalar |
| --- | --- | --- | --- |
| amd64 | 1.747,0 kB | 6.106,0 kB | [dosya listesi] |
| armel | 1.705,5 kB | 5.924,0 kB | [dosya listesi] |
| armhf | 1.699,8 kB | 5.776,0 kB | [dosya listesi] |
| i386 | 1.753,4 kB | 6.096,0 kB | [dosya listesi] |
| ia64 | 1.910,6 kB | 5.809,0 kB | [dosya listesi] |
| kfreebsd-amd64 | 1.738,6 kB | 5.040,0 kB | [dosya listesi] |
| kfreebsd-i386 | 1.737,4 kB | 5.029,0 kB | [dosya listesi] |
| mips | 1.691,0 kB | 6.066,0 kB | [dosya listesi] |
| mipsel | 1.684,7 kB | 6.062,0 kB | [dosya listesi] |
| powerpc | 1.712,9 kB | 6.032,0 kB | [dosya listesi] |
| s390 | 1.764,5 kB | 6.115,0 kB | [dosya listesi] |
| s390x | 1.779,0 kB | 6.222,0 kB | [dosya listesi] |
| sparc | 1.699,6 kB | 5.960,0 kB | [dosya listesi] |