Paket: kontact (4:16.04.3-4~deb9u1)
kontact için bağlantılar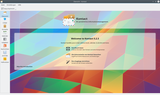 Debian Kaynakları:
kdepim Kaynak Paketini İndir:
Geliştiriciler:
Dış Kaynaklar:
Benzer paketler:
integrated application for personal information management
Kontact is the integrated solution to your personal information management needs. It combines applications like KMail, KOrganizer and KAddressBook into a single interface to provide easy access to mail, scheduling, address book and other PIM functionality.
This package is part of the KDE PIM module.
kontact ile İlgili Diğer Paketler
sug:

gnokii

Datasuite for mobile phone management (metapackage)
kontact indir
Tüm mevcut mimariler için indir

| Mimari | Paket Boyutu | Kurulu Boyut | Dosyalar |
| --- | --- | --- | --- |
| amd64 | 295,8 kB | 990,0 kB | [dosya listesi] |
| arm64 | 286,7 kB | 1.008,0 kB | [dosya listesi] |
| armel | 279,5 kB | 889,0 kB | [dosya listesi] |
| armhf | 282,1 kB | 810,0 kB | [dosya listesi] |
| i386 | 304,7 kB | 929,0 kB | [dosya listesi] |
| mips | 291,8 kB | 998,0 kB | [dosya listesi] |
| mips64el | 295,5 kB | 1.061,0 kB | [dosya listesi] |
| mipsel | 294,7 kB | 998,0 kB | [dosya listesi] |
| ppc64el | 291,7 kB | 1.212,0 kB | [dosya listesi] |
| s390x | 289,6 kB | 1.029,0 kB | [dosya listesi] |