Paket: rxvt-unicode (9.22-6 ve diğerleri) [debports]
rxvt-unicode için bağlantılar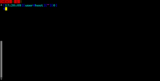 Debian Kaynakları:
Kaynak Paketini İndir:
Bulunamadı
Geliştiriciler:
Dış Kaynaklar:
Benzer paketler:
RXVT-like terminal emulator with Unicode and 256-color support
rxvt-unicode is a modern, Unicode-aware color xterm replacement that uses significantly less memory than a conventional xterm and many other Unicode supporting terminal emulators.
It supports using multiple fonts at the same time, including Xft fonts, and client-server technology to reduce memory consumption when using multiple windows.
This package is configured with 256-color support, and TERM set to "rxvt-unicode-256color". Any other systems you log into must have this terminfo entry installed!
rxvt-unicode sağlayan paketler
dummy transitional package for rxvt-unicode
dummy transitional package for rxvt-unicode
rxvt-unicode ile İlgili Diğer Paketler
rxvt-unicode indir
Tüm mevcut mimariler için indir

| Mimari | Sürüm | Paket Boyutu | Kurulu Boyut | Dosyalar |
| --- | --- | --- | --- | --- |
| riscv64 (resmi olmayan port) | 9.22-6+b1 | 733,9 kB | 3.156,0 kB | [dosya listesi] |