Paket: nm-tray (0.4.3-2) [debports]
nm-tray için bağlantılar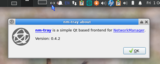 Debian Kaynakları:
Kaynak Paketini İndir:
Bulunamadı
Geliştiriciler:
Dış Kaynaklar:
Benzer paketler:
Simple Network Manager frontend written in Qt
nm-tray is a simple NetworkManager front end with information icon residing in system tray (like e.g. nm-applet). It's a pure Qt application. For interaction with NetworkManager it uses API provided by KF5::NetworkManagerQt -> plain DBus communication.
This package contain the application files.
nm-tray ile İlgili Diğer Paketler
nm-tray indir
Tüm mevcut mimariler için indir

| Mimari | Paket Boyutu | Kurulu Boyut | Dosyalar |
| --- | --- | --- | --- |
| riscv64 (resmi olmayan port) | 90,1 kB | 351,0 kB | [dosya listesi] |