Paket: kget (4:17.12.2-1) [debports]
kget için bağlantılar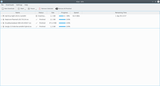 Debian Kaynakları:
Kaynak Paketini İndir:
Bulunamadı
Geliştiriciler:
Dış Kaynaklar:
Benzer paketler:
download manager
KGet is an advanced download manager with support for Metalink and Bittorrent. Downloads are added to the list, where they can be paused, queued, or scheduled for later.
This package is part of the KDE networking module.
kget ile İlgili Diğer Paketler
kget indir
Tüm mevcut mimariler için indir

| Mimari | Paket Boyutu | Kurulu Boyut | Dosyalar |
| --- | --- | --- | --- |
| riscv64 (resmi olmayan port) | 5.372,0 kB | 10.563,0 kB | [dosya listesi] |