Paket: plasma-widgets-workspace (4:4.11.13-1) [debports]
plasma-widgets-workspace için bağlantılar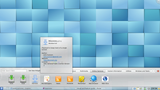 Debian Kaynakları:
Kaynak Paketini İndir:
Bulunamadı
Geliştiriciler:
Dış Kaynaklar:
Benzer paketler:
plasma widgets and containments for the KDE Plasma Workspace
This package contains standard Plasma widgets and containments shipped in the KDE base workspace module. They provide such basic desktop functionality as the panel, task manager, application laucher, clock and more. The default KDE Workspace is a combination of these visual components.
This package also includes the default animator used by the main KDE Plasma Desktop shell.
This package is part of the KDE base workspace module.
plasma-widgets-workspace ile İlgili Diğer Paketler
plasma-widgets-workspace indir
Tüm mevcut mimariler için indir

| Mimari | Paket Boyutu | Kurulu Boyut | Dosyalar |
| --- | --- | --- | --- |
| arm64 (resmi olmayan port) | 411,2 kB | 2.256,0 kB | [dosya listesi] |