Paket: cups (1.7.5-11+deb8u8) [security]
cups için bağlantılar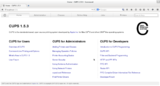 Debian Kaynakları:
cups Kaynak Paketini İndir:
Geliştiriciler:
Dış Kaynaklar:
Benzer paketler:
Common UNIX Printing System(tm) - PPD/driver support, web interface
The Common UNIX Printing System (or CUPS(tm)) is a printing system and general replacement for lpd and the like. It supports the Internet Printing Protocol (IPP), and has its own filtering driver model for handling various document types.
This package provides the parts of CUPS which are needed for using printer drivers.
cups ile İlgili Diğer Paketler