Paket: pysycache (3.1-3)
pysycache için bağlantılar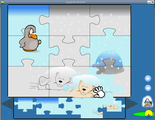 Debian Kaynakları:
pysycache Kaynak Paketini İndir:
Geliştirici:
Dış Kaynaklar:
Benzer paketler:
Educational game to teach children to use the mouse
A collection of activities based on simple objects, photographies, numbers and letters with their sounds in different languages. The activities make children practice on clicking, double-clicking, drag and drop, moving and identify the mouse buttons. From its website many packages can be downloaded to add new photos and text to the activities.
pysycache ile İlgili Diğer Paketler
pysycache indir
Tüm mevcut mimariler için indir

| Mimari | Paket Boyutu | Kurulu Boyut | Dosyalar |
| --- | --- | --- | --- |
| all | 3.217,2 kB | 4.176,0 kB | [dosya listesi] |