Paket: octave (5.1.0-1)
octave için bağlantılar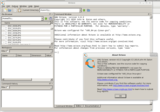 Debian Kaynakları:
octave Kaynak Paketini İndir:
Geliştiriciler:
Dış Kaynaklar:
Benzer paketler:
Deneysel paket
Uyarı: Bu paket deneysel dağıtımdan geliyor. Bu, paketin kararsız veya hatalı olabileceği hatta veri kaybına sebep olabileceği anlamına gelmektedir. Lütfen kullanmadan önce değişim günlüğüne ve muhtemel diğer belgelendirmeye danıştığınızdan emin olun.
GNU Octave language for numerical computations
Octave is a (mostly Matlab (R) compatible) high-level language, primarily intended for numerical computations. It provides a convenient command-line interface for solving linear and nonlinear problems numerically.
Octave can be dynamically extended with user-supplied C++ files.
octave ile İlgili Diğer Paketler
octave indir
Tüm mevcut mimariler için indir

| Mimari | Paket Boyutu | Kurulu Boyut | Dosyalar |
| --- | --- | --- | --- |
| amd64 | 2.219,6 kB | 6.181,0 kB | [dosya listesi] |
| arm64 | 2.098,0 kB | 6.051,0 kB | [dosya listesi] |
| armel | 2.024,7 kB | 5.193,0 kB | [dosya listesi] |
| armhf | 2.042,7 kB | 4.465,0 kB | [dosya listesi] |
| i386 | 2.309,0 kB | 6.107,0 kB | [dosya listesi] |
| m68k (resmi olmayan port) | 2.247,3 kB | 6.177,0 kB | [dosya listesi] |
| mips | 2.018,5 kB | 6.474,0 kB | [dosya listesi] |
| mips64el | 2.037,2 kB | 6.898,0 kB | [dosya listesi] |
| mipsel | 2.038,7 kB | 6.466,0 kB | [dosya listesi] |
| ppc64 (resmi olmayan port) | 2.213,5 kB | 8.241,0 kB | [dosya listesi] |
| ppc64el | 2.198,7 kB | 7.754,0 kB | [dosya listesi] |
| s390x | 2.089,7 kB | 6.283,0 kB | [dosya listesi] |
| x32 (resmi olmayan port) | 2.227,0 kB | 5.702,0 kB | [dosya listesi] |