Paket: w3c-markup-validator (1.3+dfsg-4)
w3c-markup-validator için bağlantılar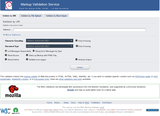 Debian Kaynakları:
Geliştirici:
Dış Kaynaklar:
Benzer paketler:
W3C Markup Validator
The W3C Markup Validator is a CGI script which lets you enter the URL of a web page which will be then checked against a validating SGML parser for conformance to official W3C recommendations. Pages can also be uploaded.
These are the same scripts that are available on the W3C web site, http://validator.w3.org/.
w3c-markup-validator ile İlgili Diğer Paketler
wrapper around W3C HTML validation testing service

Perl interface to access the W3C's online HTML validator

sug:

libxml-xpath-perl

Perl module for processing XPath
w3c-markup-validator indir
Tüm mevcut mimariler için indir

| Mimari | Paket Boyutu | Kurulu Boyut | Dosyalar |
| --- | --- | --- | --- |
| all | 2.170,6 kB | 4.248,0 kB | [dosya listesi] |