Paket: epoptes (21.02-1)
epoptes için bağlantılar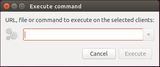 Debian Kaynakları:
epoptes Kaynak Paketini İndir:
Geliştiriciler:
Dış Kaynaklar:
Benzer paketler:
Computer lab management tool
Epoptes is an open source computer lab management and monitoring tool. It allows for screen broadcasting and monitoring, remote command execution, message sending, imposing restrictions like screen locking or sound muting the clients and much more!
Contains the server daemon and a GUI for controlling client PCs.
It supports LTSP installations, but it also works without LTSP.
epoptes ile İlgili Diğer Paketler
epoptes indir
Tüm mevcut mimariler için indir

| Mimari | Paket Boyutu | Kurulu Boyut | Dosyalar |
| --- | --- | --- | --- |
| all | 179,7 kB | 1.822,0 kB | [dosya listesi] |