Paket: xfce4-mixer (4.8.0-3 och andra)
Länkar för xfce4-mixer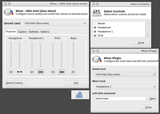 Debianresurser:
Hämta källkodspaketet xfce4-mixer:
Ansvariga:
Externa resurser:
Liknande paket:
Xfce mixer application
This is the frontend for mixer settings delivered together with the Xfce4 desktop environment. It does the same jobs other mixer frontends do but is integrated into the Xfce4 desktop as a plugin for the Xfce4 main panel.
It uses GStreamer as a backend.
Andra paket besläktade med xfce4-mixer
Hämta xfce4-mixer
Hämtningar för alla tillgängliga arkitekturer

| Arkitektur | Version | Paketstorlek | Installerad storlek | Filer |
| --- | --- | --- | --- | --- |
| amd64 | 4.8.0-3+b1 | 241,8 kbyte | 721,0 kbyte | [filförteckning] |
| armel | 4.8.0-3+b1 | 239,1 kbyte | 1.054,0 kbyte | [filförteckning] |
| armhf | 4.8.0-3+b1 | 235,2 kbyte | 1.038,0 kbyte | [filförteckning] |
| i386 | 4.8.0-3+b1 | 247,3 kbyte | 1.066,0 kbyte | [filförteckning] |
| ia64 | 4.8.0-3+b1 | 255,1 kbyte | 1.168,0 kbyte | [filförteckning] |
| kfreebsd-amd64 | 4.8.0-3+b1 | 240,7 kbyte | 743,0 kbyte | [filförteckning] |
| kfreebsd-i386 | 4.8.0-3+b1 | 239,9 kbyte | 729,0 kbyte | [filförteckning] |
| mips | 4.8.0-3+b1 | 241,3 kbyte | 1.068,0 kbyte | [filförteckning] |
| mipsel | 4.8.0-3+b1 | 234,7 kbyte | 1.068,0 kbyte | [filförteckning] |
| powerpc | 4.8.0-3+b1 | 240,1 kbyte | 1.074,0 kbyte | [filförteckning] |
| s390 | 4.8.0-3+b1 | 247,3 kbyte | 1.082,0 kbyte | [filförteckning] |
| s390x | 4.8.0-3+b1 | 246,4 kbyte | 1.095,0 kbyte | [filförteckning] |
| sparc | 4.8.0-3+b1 | 243,1 kbyte | 1.059,0 kbyte | [filförteckning] |