Paket: slang-wildcard (0.5.0-2)
Länkar för slang-wildcard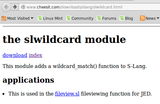 Debianresurser:
Hämta källkodspaketet slwildcard:
Ansvariga:
Externa resurser:
Liknande paket:
adds a wildcard match function to S-Lang
The S-Lang module contained in this package provides a wildcard_match() function to S-Lang. It's vectorized, so it should be faster than an array_map(&string_match, ... ). This module can be used in slsh (the S-Lang shell), in the JED editor, and in the news reader slrn.
Andra paket besläktade med slang-wildcard
dep:

libc6 (>= 2.6)

Embedded GNU C Library: Shared libraries
också ett virtuellt paket som tillhandahålls av libc6-udeb

dep:

libslang2 (>= 2.0.7-1)

S-Lang programming library - runtime version
Hämta slang-wildcard
Hämtningar för alla tillgängliga arkitekturer

| Arkitektur | Paketstorlek | Installerad storlek | Filer |
| --- | --- | --- | --- |
| sparc | 5,7 kbyte | 68,0 kbyte | [filförteckning] |