Paket: survex (1.2.6-4)
Länkar för survex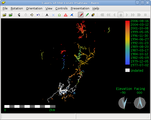 Debianresurser:
Hämta källkodspaketet survex:
Ansvariga:
Externa resurser:
Liknande paket:
cave surveying and mapping software
A software suite to process, view, and print cave survey data. Survex is cross-platform (Linux, Unix, Mac OS X, Microsoft Windows). It includes English, French, German, Portuguese, Catalan, Spanish, Slovak, and Romanian internationalisations. It can deal with extremely large and complex datasets and can read survey data from many sources.
Andra paket besläktade med survex
dep:

libc6 (>= 2.7)

Embedded GNU C Library: Shared libraries
också ett virtuellt paket som tillhandahålls av libc6-udeb
rec:

survex-aven (= 1.2.6-4)

sophisticated cave survey viewer for Survex
Hämta survex
Hämtningar för alla tillgängliga arkitekturer

| Arkitektur | Paketstorlek | Installerad storlek | Filer |
| --- | --- | --- | --- |
| sparc | 538,3 kbyte | 1.149,0 kbyte | [filförteckning] |