Paket: ecb (2.40+cvs20110608-3)
Länkar för ecb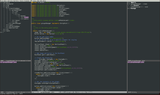 Debianresurser:
Hämta källkodspaketet ecb:
Ansvarig:
Externa resurser:
Liknande paket:
code browser for Emacs supporting several languages
ECB is source code browser for Emacs. It is a global minor-mode which displays a couple of windows that can be used to browse directories, files and methods. It supports method parsing for Java, C, C++, Elisp etc.
Andra paket besläktade med ecb
Hämta ecb
Hämtningar för alla tillgängliga arkitekturer

| Arkitektur | Paketstorlek | Installerad storlek | Filer |
| --- | --- | --- | --- |
| all | 809,9 kbyte | 3.585,0 kbyte | [filförteckning] |