[ wheezy ]
Paket: centerim-utf8 (4.22.10-2)
Länkar för centerim-utf8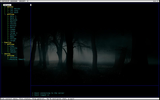 Debianresurser:
Hämta källkodspaketet centerim:
Ansvariga:
Externa resurser:
Liknande paket:
A text-mode multi-protocol instant messenger client
Centerim is a fork of the centericq instant messaging client
Centerim is a text mode menu- and window-driven IM client program that supports the ICQ2000, Yahoo!, AIM, MSN, IRC and Jabber protocols.
This is a version of centerim linked with libncursesw5. It may be buggy.
Andra paket besläktade med centerim-utf8
rec:

firefox

Paketet inte tillgängligt

eller www-browser

virtuellt paket som tillhandahålls av chimera2, chromium, conkeror, dillo, elinks, elinks-lite, elvis, elvis-console, epiphany-browser, firefox-esr, iceweasel, konqueror, links, links2, lynx-cur, midori, netrik, netsurf, netsurf-fb, netsurf-gtk, rekonq, surf, uzbl, w3m

rec:

sox

Swiss army knife of sound processing
Hämta centerim-utf8
Hämtningar för alla tillgängliga arkitekturer

| Arkitektur | Paketstorlek | Installerad storlek | Filer |
| --- | --- | --- | --- |
| s390x | 1.235,7 kbyte | 3.331,0 kbyte | [filförteckning] |