Paket: raincat (1.1-3)
Länkar för raincat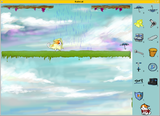 Debianresurser:
Hämta källkodspaketet raincat:
Ansvariga:
Externa resurser:
Liknande paket:
2D puzzle game featuring a fuzzy little cat
Raincat is a 2d puzzle game similar to the Incredible Machine and Lemmings series. Your goal is simple: guide the cat safe and dry to the end of each level. Just mind the rain, puddles, and loose fire hydrants in your path!
Andra paket besläktade med raincat
sug:

raincat-dbg (= 1.1-3)

2D puzzle game featuring a fuzzy little cat - debug
Hämta raincat
Hämtningar för alla tillgängliga arkitekturer

| Arkitektur | Paketstorlek | Installerad storlek | Filer |
| --- | --- | --- | --- |
| s390 | 2.732,4 kbyte | 13.817,0 kbyte | [filförteckning] |