Paket: kimagemapeditor (4:4.8.4-1)
Länkar för kimagemapeditor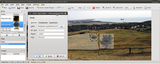 Debianresurser:
Hämta källkodspaketet kdewebdev:
Ansvariga:
Externa resurser:
Liknande paket:
HTML image map editor
KImageMapEditor is a tool that allows you to edit image maps in HTML files. As well as providing a standalone application, KImageMapEditor makes itself available as a KPart for embedding into larger applications.
This package is part of KDE web development module.
Andra paket besläktade med kimagemapeditor
Hämta kimagemapeditor
Hämtningar för alla tillgängliga arkitekturer

| Arkitektur | Paketstorlek | Installerad storlek | Filer |
| --- | --- | --- | --- |
| powerpc | 592,0 kbyte | 1.122,0 kbyte | [filförteckning] |