Paket: diffmon (20020222-2.5)
Länkar för diffmon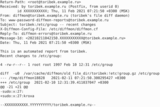 Debianresurser:
Hämta källkodspaketet diffmon:
Ansvarig:
Liknande paket:
Tool for reporting changes in system configuration
This tool is run by a nightly cron job, and takes a `diff' of specified system configuration files and emails them to a specified email address. Options to diff can be specified. This is useful in friendly environments where there are multiple sysadmins working on configuration files/setups and everyone's changes are reported. CVS is a better answer, but most of us don't want to have the hassle of putting system files in a repository.
Andra paket besläktade med diffmon
dep:

bash (>= 2.0)

GNU Bourne Again SHell

dep:

sendmail

powerful, efficient, and scalable Mail Transport Agent

eller mail-transport-agent

virtuellt paket som tillhandahålls av citadel-mta, courier-mta, esmtp-run, exim4-daemon-heavy, exim4-daemon-light, lsb-invalid-mta, masqmail, msmtp-mta, nullmailer, postfix, qmail-run, sendmail-bin, ssmtp, xmail
Hämta diffmon
Hämtningar för alla tillgängliga arkitekturer

| Arkitektur | Paketstorlek | Installerad storlek | Filer |
| --- | --- | --- | --- |
| all | 11,8 kbyte | 124,0 kbyte | [filförteckning] |