Paket: mrtg-ping-probe (2.2.0-1)
Länkar för mrtg-ping-probe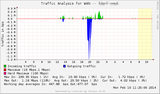 Debianresurser:
Ansvarig:
Liknande paket:
Ping module for Multi Router Traffic Grapher
mrtg-ping-probe is a ping probe for MRTG 2.x. It is used to monitor the round trip time and packet loss to networked devices. MRTG uses its output to generate graphs visualizing minimum and maximum round trip times or packet loss.
Andra paket besläktade med mrtg-ping-probe
dep:

iputils-ping

Verktyg för att testa nätverksvärdars tillgänglighet

eller ping

virtuellt paket som tillhandahålls av inetutils-ping, iputils-ping

dep:

mrtg (>= 2)

multi router traffic grapher

dep:

perl (>= 5.6.1)

Larry Walls "Practical Extraction and Report Language"
Hämta mrtg-ping-probe
Hämtningar för alla tillgängliga arkitekturer

| Arkitektur | Paketstorlek | Installerad storlek | Filer |
| --- | --- | --- | --- |
| all | 23,8 kbyte | 88,0 kbyte | [filförteckning] |