Paket: lugaru (0~20110520.1+hge4354+dfsg-3) [contrib]
Länkar för lugaru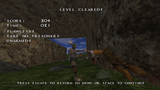 Debianresurser:
Hämta källkodspaketet lugaru:
Ansvariga:
Externa resurser:
Liknande paket:
third-person action game
Lugaru is the first commercial game by Wolfire Games. Lugaru's main character is Turner, an anthropomorphic rabbit with curiously well developed combat skills. After seeing his family and friends murdered by wolf raiders he embarks on a quest of revenge, only to uncover a deeper plot that threatens the entire island. Using a wide variety of intuitive combat techniques, the player combats wolves and hostile rabbits across three different landscapes (grasslands, snow, desert).
Andra paket besläktade med lugaru
Hämta lugaru
Hämtningar för alla tillgängliga arkitekturer

| Arkitektur | Paketstorlek | Installerad storlek | Filer |
| --- | --- | --- | --- |
| mipsel | 476,2 kbyte | 1.100,0 kbyte | [filförteckning] |