Paket: jack-mixer (9-3)
Länkar för jack-mixer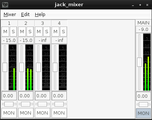 Debianresurser:
Hämta källkodspaketet jack-mixer:
Ansvariga:
Externa resurser:
Liknande paket:
JACK Audio Mixer
jack_mixer is an audio mixer for JACK with a look similar to its hardware counterparts. Many features are available, here is a short list:

 - Mix any number of input channels (mono or stereo).
 - Control balance and faders with MIDI commands.
 - Handle session management with LASH.
 - Create as many outputs as necessary.
 - Quickly monitor inputs (PFL) and outputs.

Andra paket besläktade med jack-mixer
Hämta jack-mixer
Hämtningar för alla tillgängliga arkitekturer

| Arkitektur | Paketstorlek | Installerad storlek | Filer |
| --- | --- | --- | --- |
| mipsel | 66,7 kbyte | 440,0 kbyte | [filförteckning] |