Paket: typespeed (0.6.5-1.1)
Länkar för typespeed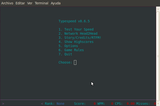 Debianresurser:
Hämta källkodspaketet typespeed:
Ansvarig:
Externa resurser:
Liknande paket:
Zap words flying across the screen by typing them correctly
Typespeed is a game in which words fly across your screen. Your task is to zap the words by typing them before they cross the screen. If too many words get by you, the game is over.
Andra paket besläktade med typespeed
dep:

fileutils (>= 4.0-5)

Paketet inte tillgängligt

eller coreutils (>> 5)

GNU core utilities

dep:

libc0.1 (>= 2.3)

Embedded GNU C Library: Shared libraries
också ett virtuellt paket som tillhandahålls av libc0.1-udeb

dep:

libncurses5 (>= 5.7+20100313)

shared libraries for terminal handling
Hämta typespeed
Hämtningar för alla tillgängliga arkitekturer

| Arkitektur | Paketstorlek | Installerad storlek | Filer |
| --- | --- | --- | --- |
| kfreebsd-amd64 | 77,1 kbyte | 242,0 kbyte | [filförteckning] |