Paket: jumpnbump (1.50+dfsg1-3)
Länkar för jumpnbump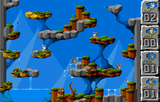 Debianresurser:
Hämta källkodspaketet jumpnbump:
Ansvariga:
Externa resurser:
Liknande paket:
cute multiplayer platform game with bunnies
You, as a bunny, have to jump on your opponents to make them explode. It's a true multiplayer game, you can't play this alone. It has network support.
This program is a unix port of the old DOS game by brainchilddesign.
Andra paket besläktade med jumpnbump
sug:

jumpnbump-levels

cute multiplayer platform game with bunnies (extra levels)
Hämta jumpnbump
Hämtningar för alla tillgängliga arkitekturer

| Arkitektur | Paketstorlek | Installerad storlek | Filer |
| --- | --- | --- | --- |
| amd64 | 309,2 kbyte | 704,0 kbyte | [filförteckning] |
| armel | 306,5 kbyte | 692,0 kbyte | [filförteckning] |
| armhf | 301,5 kbyte | 599,0 kbyte | [filförteckning] |
| i386 | 302,6 kbyte | 708,0 kbyte | [filförteckning] |
| ia64 | 359,2 kbyte | 864,0 kbyte | [filförteckning] |
| kfreebsd-amd64 | 309,1 kbyte | 654,0 kbyte | [filförteckning] |
| kfreebsd-i386 | 302,5 kbyte | 648,0 kbyte | [filförteckning] |
| mips | 314,9 kbyte | 708,0 kbyte | [filförteckning] |
| mipsel | 315,9 kbyte | 708,0 kbyte | [filförteckning] |
| powerpc | 311,9 kbyte | 696,0 kbyte | [filförteckning] |
| s390 | 304,6 kbyte | 700,0 kbyte | [filförteckning] |
| s390x | 311,4 kbyte | 655,0 kbyte | [filförteckning] |
| sparc | 308,8 kbyte | 704,0 kbyte | [filförteckning] |