Paket: musetup-gtk (1:0.2+svn20100315.r1208-2)
Länkar för musetup-gtk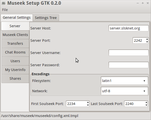 Debianresurser:
Hämta källkodspaketet museek+:
Ansvarig:
Externa resurser:
Liknande paket:
Gtk based museekd configuration utility
Museek+ is a file-sharing application for the Soulseek peer-to-peer network. It's a fork of Museek which now includes nearly all features supported by the official closed-source Soulseek client (Room Searching, Buddy-only shares, Interests, Banlists, Ignorelists, Icon Themes, Font/Color selecting, etc.)
X museekd configuration tool (Python/GTK2).
Andra paket besläktade med musetup-gtk
dep:

museekd (>= 1:0.2+svn20100315.r1208-2)

Client for the SoulSeek peer-to-peer network (server daemon)

dep:

python (>= 2.4)

interactive high-level object-oriented language (default version)

dep:

python-gtk2

Python bindings for the GTK+ widget set
Hämta musetup-gtk
Hämtningar för alla tillgängliga arkitekturer

| Arkitektur | Paketstorlek | Installerad storlek | Filer |
| --- | --- | --- | --- |
| all | 65,3 kbyte | 291,0 kbyte | [filförteckning] |