Paket: lcrt (1.1.2-1)
Länkar för lcrt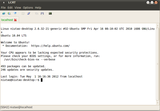 Debianresurser:
Hämta källkodspaketet lcrt:
Ansvarig:
Externa resurser:
Liknande paket:
graphic Linux remote login tool
lcrt is a Linux remote login tool. Just like ssh or telnet, but it has a GUI and can manage many connections. User can use it to save connection information such as hostname, username and, optionally, password, and auto login next time. lcrt also can clone a connected session, so user can open many connections quickly.
Andra paket besläktade med lcrt
Hämta lcrt
Hämtningar för alla tillgängliga arkitekturer

| Arkitektur | Paketstorlek | Installerad storlek | Filer |
| --- | --- | --- | --- |
| ia64 | 348,1 kbyte | 884,0 kbyte | [filförteckning] |