Paket: rawdog (2.13.dfsg.1-1)
Länkar för rawdog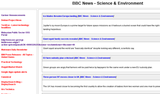 Debianresurser:
Hämta källkodspaketet rawdog:
Ansvarig:
Liknande paket:
RSS Aggregator Without Delusions Of Grandeur
rawdog is an RSS (and other) feed aggregator, based on Mark Pilgrim's flexible feed parser. It's just an aggregator; it's not a weblog authoring tool, nor is it an NNTP gateway, outliner, mailserver or anything else.
rawdog reads articles from a number of feeds and writes out a single HTML file, based on a template either provided by the user or generated by rawdog, containing the latest articles it's seen. It uses the ETags and Last-Modified headers to avoid fetching a file that hasn't changed, and supports gzip compression to reduce bandwidth when it has.
Andra paket besläktade med rawdog
dep:

python

interactive high-level object-oriented language (default version)

dep:

python-support (>= 0.90.0)

automated rebuilding support for Python modules
Hämta rawdog
Hämtningar för alla tillgängliga arkitekturer

| Arkitektur | Paketstorlek | Installerad storlek | Filer |
| --- | --- | --- | --- |
| all | 85,9 kbyte | 372,0 kbyte | [filförteckning] |