Paket: sagasu (2.0.10-1)
Länkar för sagasu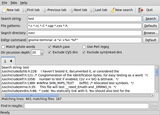 Debianresurser:
Hämta källkodspaketet sagasu:
Ansvarig:
Liknande paket:
GNOME tool to find strings in a set of files
The user specifies the search directory and the set of files to be searched. Double-clicking on a search result launches a user command that can for example load the file in an editor at the appropriate line. The search can optionally ignore CVS directories.
Andra paket besläktade med sagasu
Hämta sagasu
Hämtningar för alla tillgängliga arkitekturer

| Arkitektur | Paketstorlek | Installerad storlek | Filer |
| --- | --- | --- | --- |
| armel | 92,6 kbyte | 424,0 kbyte | [filförteckning] |