[ wheezy ]
Paket: azureus (4.3.0.6-5)
Länkar för azureus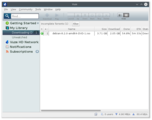 Debianresurser:
Hämta källkodspaketet azureus:
Ansvariga:
Externa resurser:
Liknande paket:
BitTorrent client
BitTorrent is a peer-to-peer file distribution tool.
Azureus offers multiple torrent downloads, queuing/priority systems (on torrents and files), start/stop seeding options and instant access to numerous pieces of information about your torrents. Azureus now features an embedded tracker easily set up and ready to use.
Andra paket besläktade med azureus
rec:

vuze

Multimedia BitTorrent client
Hämta azureus
Hämtningar för alla tillgängliga arkitekturer

| Arkitektur | Paketstorlek | Installerad storlek | Filer |
| --- | --- | --- | --- |
| all | 11.570,5 kbyte | 12.895,0 kbyte | [filförteckning] |