Paket: eiskaltdcpp-qt (2.2.9-4.1)
Länkar för eiskaltdcpp-qt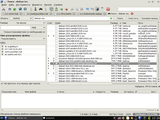 Debianresurser:
Hämta källkodspaketet eiskaltdcpp:
Ansvarig:
Externa resurser:
Liknande paket:
EiskaltDC++ GUI on Qt
This package installs only EiskaltDC++ with GUI based on Qt.
EiskaltDC++ is a cross-platform program that uses the Direct Connect and ADC protocols. It is compatible with DC++, FlylinkDC++, LinuxDC++ and other DC clients. EiskaltDC++ also interoperates with all common DC hub software.
Andra paket besläktade med eiskaltdcpp-qt
Hämta eiskaltdcpp-qt
Hämtningar för alla tillgängliga arkitekturer

| Arkitektur | Paketstorlek | Installerad storlek | Filer |
| --- | --- | --- | --- |
| amd64 | 1.053,7 kbyte | 4.048,0 kbyte | [filförteckning] |
| arm64 | 838,8 kbyte | 3.502,0 kbyte | [filförteckning] |
| armel | 818,8 kbyte | 3.186,0 kbyte | [filförteckning] |
| armhf | 826,7 kbyte | 2.462,0 kbyte | [filförteckning] |
| i386 | 1.080,5 kbyte | 4.229,0 kbyte | [filförteckning] |
| mips | 773,3 kbyte | 4.354,0 kbyte | [filförteckning] |
| mips64el | 792,6 kbyte | 4.529,0 kbyte | [filförteckning] |
| mipsel | 789,0 kbyte | 4.362,0 kbyte | [filförteckning] |
| ppc64el | 880,4 kbyte | 4.160,0 kbyte | [filförteckning] |
| s390x | 903,3 kbyte | 4.109,0 kbyte | [filförteckning] |