Paket: kontact (4:16.04.3-4~deb9u1)
Länkar för kontact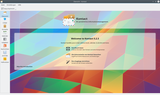 Debianresurser:
Hämta källkodspaketet kdepim:
Ansvariga:
Externa resurser:
Liknande paket:
integrated application for personal information management
Kontact is the integrated solution to your personal information management needs. It combines applications like KMail, KOrganizer and KAddressBook into a single interface to provide easy access to mail, scheduling, address book and other PIM functionality.
This package is part of the KDE PIM module.
Andra paket besläktade med kontact
sug:

gnokii

Datasuite for mobile phone management (metapackage)
Hämta kontact
Hämtningar för alla tillgängliga arkitekturer

| Arkitektur | Paketstorlek | Installerad storlek | Filer |
| --- | --- | --- | --- |
| amd64 | 295,8 kbyte | 990,0 kbyte | [filförteckning] |
| arm64 | 286,7 kbyte | 1.008,0 kbyte | [filförteckning] |
| armel | 279,5 kbyte | 889,0 kbyte | [filförteckning] |
| armhf | 282,1 kbyte | 810,0 kbyte | [filförteckning] |
| i386 | 304,7 kbyte | 929,0 kbyte | [filförteckning] |
| mips | 291,8 kbyte | 998,0 kbyte | [filförteckning] |
| mips64el | 295,5 kbyte | 1.061,0 kbyte | [filförteckning] |
| mipsel | 294,7 kbyte | 998,0 kbyte | [filförteckning] |
| ppc64el | 291,7 kbyte | 1.212,0 kbyte | [filförteckning] |
| s390x | 289,6 kbyte | 1.029,0 kbyte | [filförteckning] |