Paket: fluxbox (1.3.5-2 och andra)
Länkar för fluxbox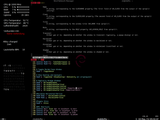 Debianresurser:
Hämta källkodspaketet fluxbox:
Ansvariga:
Externa resurser:
Liknande paket:
Highly configurable and low resource X11 Window manager
Fairly similar to blackbox, from which it is derived, but has been extended with features such as pwm-style window tabs, configurable key bindings, toolbar, and an iconbar. It also includes some cosmetic fixes over blackbox.
This package contains support for GNOME and KDE.
Andra paket besläktade med fluxbox
rec:

feh

imlib2 based image viewer

eller eterm

Enlightened Terminal Emulator

eller hsetroot

tool for composing root-pixmaps for X11

eller xloadimage

Graphics file viewer under X11

rec:

xfonts-terminus

Fixed-width fonts for fast reading
sug:

fbautostart

XDG compliant autostarting app for Fluxbox

sug:

fbdesk

Paketet inte tillgängligt

sug:

fbpager

a pager application for the Fluxbox window manager
Hämta fluxbox
Hämtningar för alla tillgängliga arkitekturer

| Arkitektur | Version | Paketstorlek | Installerad storlek | Filer |
| --- | --- | --- | --- | --- |
| amd64 | 1.3.5-2+b2 | 1.151,5 kbyte | 3.860,0 kbyte | [filförteckning] |
| arm64 | 1.3.5-2+b2 | 1.104,8 kbyte | 3.808,0 kbyte | [filförteckning] |
| armel | 1.3.5-2+b2 | 1.054,1 kbyte | 3.512,0 kbyte | [filförteckning] |
| armhf | 1.3.5-2+b2 | 1.071,5 kbyte | 3.100,0 kbyte | [filförteckning] |
| i386 | 1.3.5-2+b2 | 1.204,4 kbyte | 3.922,0 kbyte | [filförteckning] |
| mips | 1.3.5-2+b2 | 1.141,4 kbyte | 4.341,0 kbyte | [filförteckning] |
| mips64el | 1.3.5-2+b2 | 1.151,2 kbyte | 4.619,0 kbyte | [filförteckning] |
| mipsel | 1.3.5-2+b2 | 1.151,8 kbyte | 4.341,0 kbyte | [filförteckning] |
| ppc64el | 1.3.5-2+b2 | 1.130,9 kbyte | 4.408,0 kbyte | [filförteckning] |
| s390x | 1.3.5-2+b2 | 1.119,0 kbyte | 4.082,0 kbyte | [filförteckning] |