Paket: pyflakes (1.3.0-1)
Länkar för pyflakes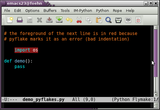 Debianresurser:
Hämta källkodspaketet pyflakes:
Ansvariga:
Externa resurser:
Liknande paket:
passive checker of Python 2 and 3 programs
Pyflakes is program to analyze Python programs and detect various errors. It works by parsing the source file, not importing it, so it is safe to use on modules with side effects. It's also much faster.
Unlike PyLint, Pyflakes checks only for logical errors in programs; it does not perform any checks on style.
This is the Python 2 command line `pyflakes3` program.
Andra paket besläktade med pyflakes
dep:

python

interactive high-level object-oriented language (default version)

dep:

python-pyflakes (>= 1.0.0-2)

passive checker of Python 2 programs
rec:

pyflakes3

passive checker of Python 2 and 3 programs
Hämta pyflakes
Hämtningar för alla tillgängliga arkitekturer

| Arkitektur | Paketstorlek | Installerad storlek | Filer |
| --- | --- | --- | --- |
| all | 9,9 kbyte | 20,0 kbyte | [filförteckning] |