Paket: debtags (2.1.2)
Länkar för debtags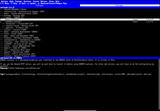 Debianresurser:
Hämta källkodspaketet debtags:
Ansvariga:
Externa resurser:
Liknande paket:
Debian Package Tags support tools
debtags extracts tag information from the apt database and makes it available to the system, either in /var/lib/debtags/debtags or via apt-xapian-index.
Package tags are categories for Debian packages.
debtags also provides some handy command to query tag information.
Andra paket besläktade med debtags
dep:

python3

interactive high-level object-oriented language (default python3 version)

dep:

python3-apt

Python 3 interface to libapt-pkg

dep:

python3-debian

Python 3 modules to work with Debian-related data formats
sug:

tagcoll

Commandline tool to perform operations on tagged collections
Hämta debtags
Hämtningar för alla tillgängliga arkitekturer

| Arkitektur | Paketstorlek | Installerad storlek | Filer |
| --- | --- | --- | --- |
| all | 158,0 kbyte | 274,0 kbyte | [filförteckning] |