Paket: ghkl (4.0.3-2)
Länkar för ghkl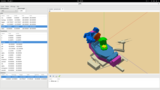 Debianresurser:
Hämta källkodspaketet hkl:
Ansvariga:
Externa resurser:
Liknande paket:
diffractometer computation control library
The hkl library is a framework for diffraction computation and diffractometer control, heavily used at the SOLEIL synchrotron. It supports various types of diffractometer geometry: Eulerian 4-circle, Eulerian 6-circle, kappa 4-circle, kappa 6-circle, and z-axis geometry. For each of these it provides several numerically computed modes, such as bisector and constant psi.
This package provides a gui on top of the hkl library.
Andra paket besläktade med ghkl
Hämta ghkl
Hämtningar för alla tillgängliga arkitekturer

| Arkitektur | Paketstorlek | Installerad storlek | Filer |
| --- | --- | --- | --- |
| s390 | 200,7 kbyte | 516,0 kbyte | [filförteckning] |