Package: prctl (1.5-1)
Links for prctl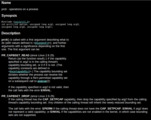 Debian Resources:
Download Source Package prctl:
Maintainer:
Similar packages:
Process control operations
prctl is a tool to query and modify process behavior. Supported process behavior is handling of unaligned memory access and handling of floating point software assist faults. The required syscalls are currently only available on Itanium Processor Family (ia64), HP PA-RISC (hppa) and alpha (>=2.6.15) kernels in Debian.
Other Packages Related to prctl
dep:

libc6 (>= 2.4) [powerpc]

Embedded GNU C Library: Shared libraries
also a virtual package provided by libc6-udeb

dep:

libc6.1 (>= 2.3.5-1) [ia64]

Embedded GNU C Library: Shared libraries
also a virtual package provided by libc6.1-udeb